It's that time of year when it feels really good to get your hands dirty planting a container of beautiful summer annuals. (Summer officially starts today!)
Browsing through a garden center and walking among all the annuals can be inspiring, but it can also be a bit overwhelming. So, that's why Topiarius is providing you with a free planting plan! You can enjoy the beauty AND know exactly what you need to buy.
This plan is for a 4′ x 16″ planter, but the quantities can be modified to fit another size container. We L-O-V-E our plantings to be lush instantaneously so we make sure to have enough plant material on-hand. Additionally, these plants do best in part sun/part shade.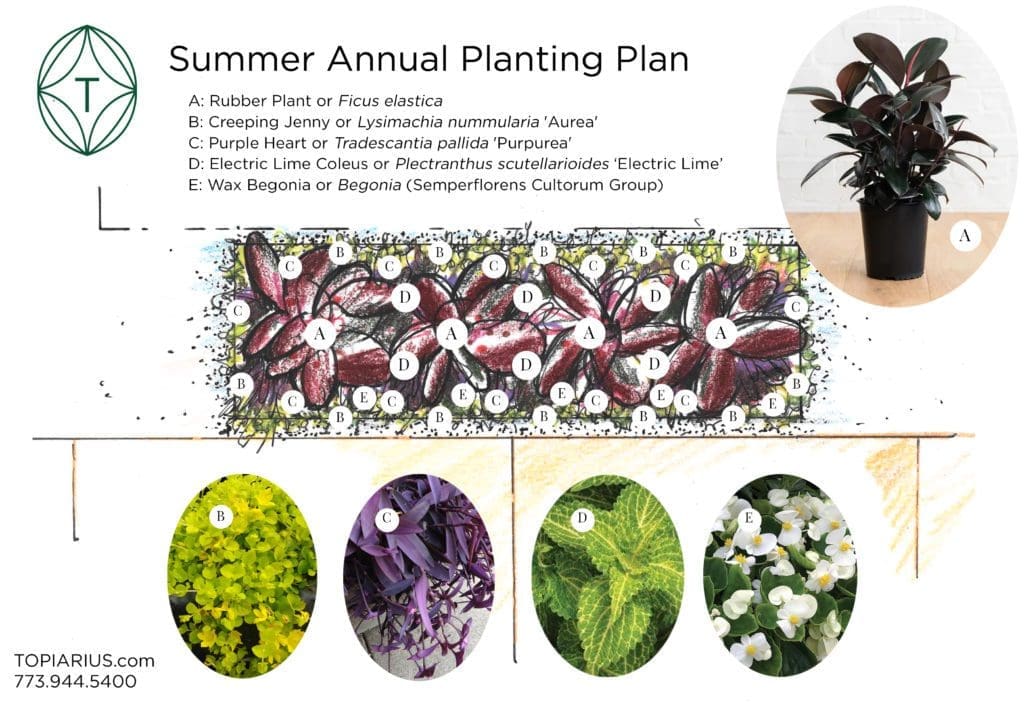 A few tips for planting:
Make sure your container has drainage holes.
Use potting soil (not Chicago clay soil).
Compact the soil a bit before and while planting so that after a few days the roots aren't exposed as the soil has settled.
Remember to water immediately after planting then regularly.
For more information about these annuals visit Missouri Botanic Garden's Plant Finder – it's one of our favorite resources.
If you need more inspiration, you can see our other designs on our Pinterest board.

And, if you love the idea of a summer annual planting, but have no time nor interest in doing the planting . . . give us a ring. We're happy and eager to help.
Photo Credits:
A: https://susajja.com/ficus-black-prince-rubber-plant-burgundy/
B: https://www.devonpondplants.co.uk/;
C: gardenanswers.com
D: https://shop.romencegardens.com/coleus-solenostemon-hybrida-electric-lime-p215.aspxE: https://shopugc.com/annual-flats/