LUXURY SEASONAL ROTATIONS IN CHICAGO
Spring, Summer, Fall, & Winter
Topiarius celebrates each with plants, designs, and displays unique to each season. All our seasonal offerings are professionally designed and installed, and available to homeowners and commercial properties alike. Whether your preference is traditional and formal or clean and modern, we create the perfect design using the best plants and accents.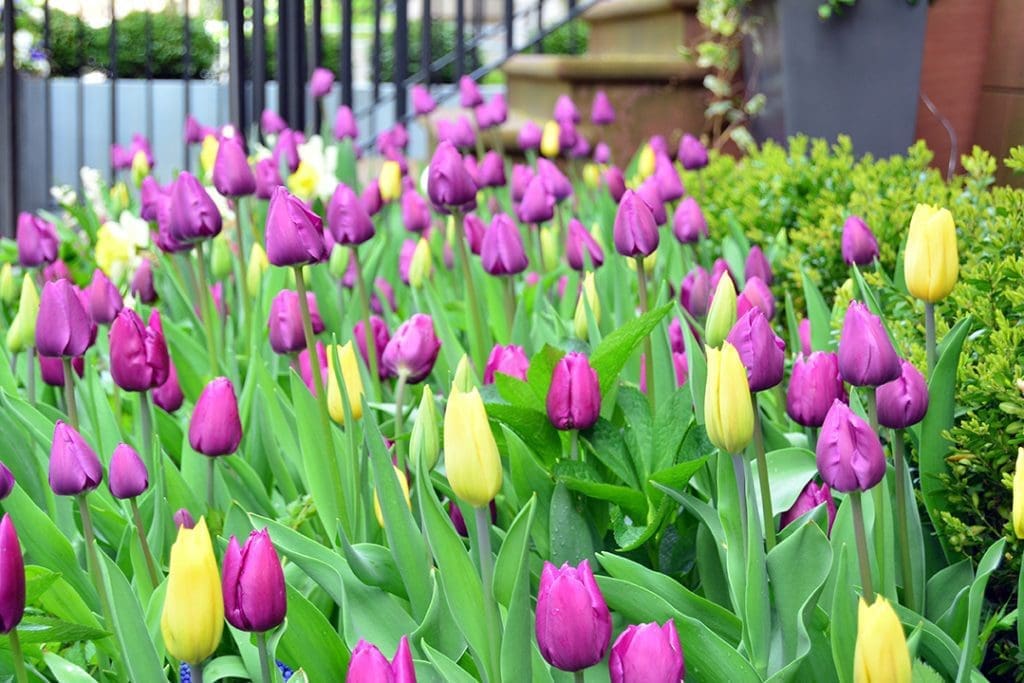 Spring bulbs are like hidden treasures, patiently waiting beneath the earth's surface throughout the winter months. They are carefully planted in-ground the previous fall, gently tucked into the soil, and covered with a blanket of dirt. It's a process that requires patience and anticipation, knowing that the reward will come in due time.
And oh, what a reward it is! As the days grow longer and the warmth of the sun begins to awaken the world from its slumber, these bulbs burst forth with vibrant colors and delicate petals. They are the heralds of spring, the first to announce the arrival of a new season filled with renewal.
Spring annuals and displays are a highly anticipated favorite, signaling the end of the long winter and the promise of warmer days ahead. 
Our expertly curated spring plantings and displays thrive both in containers and in-ground, offering endless possibilities to transform any garden or outdoor setting. Each year, we meticulously update our color palettes to ensure a fresh and captivating experience for our clients. However, we also understand that individual preferences vary, which is why we offer custom combinations tailored to suit your unique taste and style.
At this time of year we design using traditional spring plants like Tulips, Daffodils, Hydrangeas, and Pansies, but it is also an opportune moment for us to explore the unexpected and embrace the allure of unconventional choices such as Stock, Nemesia, Alyssum, Delphinium, and Osteospermum. 
In addition to the natural beauty of spring annuals, we incorporate faux and artificial components. These carefully chosen elements serve as the proverbial cherry on top, adding an enchanting touch that will leave you and your guests in awe.
Summer installations, whether in-ground or in containers, are as creative as our other seasonal installations. Our team of talented designers takes pride in curating a wide range of options that cater to your unique style and preferences. Whether you prefer a more mono-chromatic aesthetic or a vibrant mix of colors, we have the perfect selection for you. We also understand the importance of considering the lighting conditions in your landscape, whether it's full sun or full shade, to ensure optimal growth and beauty.
At our Topiarius, we not only prioritize the perfection of your one and only container but also understand the significance of having all the displays throughout your vast property complement each other seamlessly, creating a cohesive and visually stunning environment.
Choose us to bring your landscape to life during the summer.  Together, we can create an enchanting and captivating outdoor space that will be the envy of all who see it.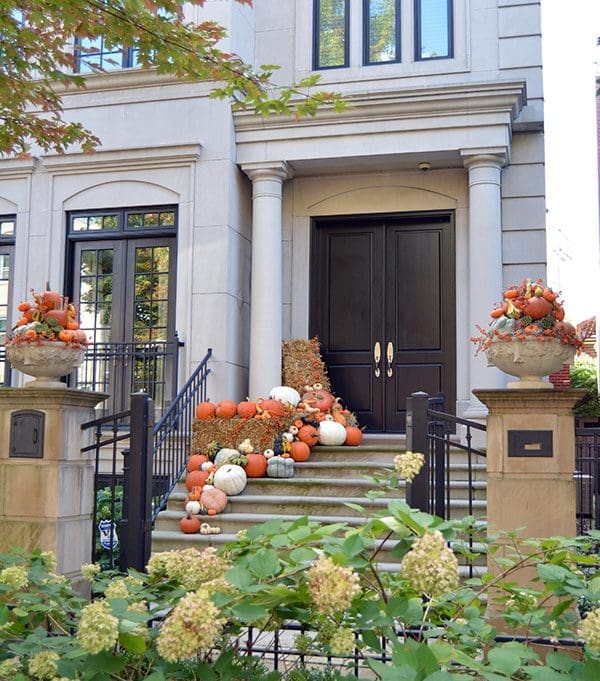 As the temperature starts to cool and the leaves begin to change, the transition from the hot tropics of summer to the breathtaking colors of fall is truly beautiful. At Topiarius, we understand the importance of embracing this seasonal shift and we are here to help you create a landscape that beautifully reflects this change and what better way to do this than updating your containers and landscape beds enhanced with an a fall annual display!
As fall rolls in, it is the perfect opportunity to showcase breathtaking displays of pumpkins, gourds, hay bales, and corn stalks. As Halloween draws near, we take the fun to the next level by incorporating larger-than-life spiders, intricate spider webs, climbing skeletons, eerie gargoyles, mysterious bats, spooky zombies, and sleek black cats into our décor. But our creativity doesn't stop there! We also offer enchanting lights, elegant garlands, and even custom-built haunted houses to add that extra touch of magic to your Halloween decorations. So let your imagination run wild and allow us to bring your Halloween dreams to life!
As the winter season approaches, the talented team at Topiarius eagerly begins preparing for both outdoor and indoor décor projects. We are truly excited to craft a stunning winter displays in containers, add enchanting garlands, twinkling lights, elegant wreaths, beautiful bows, and majestic trees that will bring the magic of winter to life.
What truly sets us apart is our passion for transforming indoor spaces into winter wonderlands. With our expertise and creativity, we can turn any room into a magical escape, capturing the essence of the holiday season. Whether it's adorning your tree with exquisite ornaments, draping garlands along mantles and staircases, mounting breathtaking wreaths, or providing seasonal plants, our bespoke designs are guaranteed to delight and captivate. We pay attention to every detail, carefully selecting the perfect colors, textures, and elements to create a harmonious and enchanting ambiance. Our team will work closely with you to understand your vision and bring it to life, ensuring that every element complements your personal style and preferences. From traditional and timeless designs to modern and innovative concepts, we have the expertise to create a winter wonderland that reflects your unique taste.
Don't let the winter season pass by without experiencing the magic and joy it brings. 
Generally, our multi-season contracts are generated during the fall/winter of the previous year to ensure seamless transitions and uninterrupted service. This proactive approach allows us to hit the ground running once spring arrives, without missing a beat. However, rest assured that our availability extends beyond just spring. We are committed to serving you each and every season, ready to fulfill your every desire and meet your specific needs. Whether it's the vibrant colors of summer, the cozy warmth of autumn, or the crisp freshness of winter, our team is here to provide exceptional service and exceed your expectations throughout the year.
"The designs are always perfect and stunning . . . the plants are all healthy and last during the season. The . . . installation crew seamless. They are the best; so glad I found them! 🌺🌺🌺"
"The containers and plantings have been elevated since you and I started working together. [It's] like the next level of landscaping. The truth is, people will stop [in front of my home] and tell me that we have the best landscaping. And I do. I give you guys (Topiarius) full credit. If you want to hire them, they're fantastic."
"Topiarius is a top-notch firm. They really know how to beautify spaces and are meticulous and very professional. They come up with the most beautiful ideas and designs for our front planters, and they'll work with me on special projects around the house and yard. Their installation team spends hours on seasonal rotations for us, ensuring every stem and flower is precisely placed. And they always clean up beautifully after they are done. I truly appreciate the attention to detail and highly recommend them."
Chicago Neighborhoods
Gold Coast
Lakeview
Park West
Wrightwood Neighbors
Sheffield Neighbors
Ranch Triangle
Ravenswood
Old Irving Park
Uptown
Lincoln Square
Edgewater
Bucktown
Logan Square
Chicago Neighborhoods cont. 
Humboldt Park
Wicker Park
West Town 
Old Town
Near North
River North 
Loop
Steeterville
University Village 
South Loop
Hyde Park
Kenwood
Neighboring Towns
Oak Park
River Forest
Burr Ridge
Hinsdale
Lincolnwood/Skokie
Evanston
Wilmette
Kenilworth
Winnetka
Glencoe
Highland Park
Indiana Shoreline
Southwest Michigan
Grand Beach
New Buffalo
Three Oaks
Bridgman
Harbert
Sawyer
Stevensville
Three Oaks
Union Pier
Let's get started on your outdoor sanctuary.