Hello Friend,

That's right. I've inserted a GIF. 
This means this conversation is VERY serious.
The world-wide obsession with mulch in landscaping has gone off the rails, ya'll. 
Take a look at this photo (below). Have you seen these mulch volcanos before? 
(P.S. They're everywhere, in every state, and in many countries around the world.)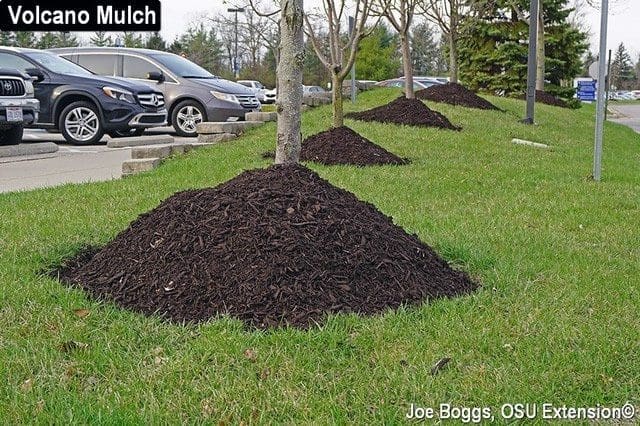 This much mulch is TOO much. TOO much. It's TOO much.
Let's start with this. Mulch is a great tool for
Keeping roots cool in the summer and warm in the winter.
Protecting plants from weed and grass encroachment.
Maintaining soil moisture, minimizing evaporation.
Protecting the trunk from damage during turf maintenance. (If rings are part of plan, cuz you don't have to have one. Truth bomb.)
Providing a uniform, well–cared for look.
Providing nutrition to soil as it decomposes.
But TOO much mulch, especially around the trunks of trees and shrubs, is BAD. REALLY BAD. REALLY BAD. REALLY BAD.
Here's my "technical" way of explaining:
The majority of a tree's plumbing is immediately under the bark, and in order to stay alive, water and nutrients must move up and down through this plumbing.
The transition between tree trunk and tree roots is the ROOT FLARE. This is the beautiful and often graceful swoop that sits at or just above ground level. 
So when the mulch is piled sooooooo high – i.e. ABOVE the root flare – whomever put the mulch there is actively choosing to kill the tree. Your tree! (Like I said this is serious. A serious waste of your money!!!)
Because mulch provides protection, holds moisture, and minimizes evaporation, a mulch volcano begins to rot the bark. And when the bark rots, it's not long before the plumbing rots and STOPS WORKING leading to tree death. It's a slow and sad process. 
Here's what your tree with mulch should look like.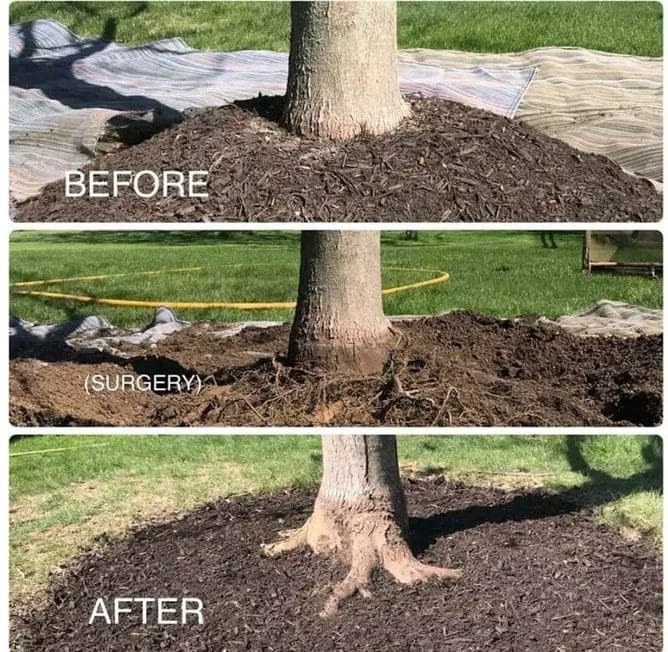 Photo: Xanderbuilt Tree Care and Urban Tree Arboriculture
It's shocking how much mulch was covering up the root flare! It's really a crime . . . of ignorance and lack of concern about your investment. 
While I would like to rid the world of every single mulch volcano, I can only control Topiarius standards. We expect every tree flare to show off its beauty. So please expect that of all our installs.
At Topiarius we have set the bar high because we believe that in order to live beautifully outdoors, you/we have to utilize the best horticultural practices. Interested in working with a company like us, then get started here.
#ExposeYourFlare
P.S. This is the first topic in a series exploring a few of our Top 20 Pet Peeves. Click here to see the full list.