If I mention the words grinder, jimmies, and bubbla, do you know what I'm talking about? 
Well, you most definitely would if you were from Massachusetts, where I spent my childhood.
Now, as a Chicagoan, I'd say: subway sandwich, chocolate sprinkles, and water fountain. (Massachusetts is kind of weird, right?)
Words can be quite entertaining and sometimes confusing if they mean different things to each of us. Add a whole other layer of confusion if the words are part of a brand new vocabulary, as you will find in landscaping!
So in today's lesson, I'm breaking down two important words for you:
"LANDSCAPING" and "HARDSCAPING"
When we use the term "landscaping" we are referring to "the process of making a yard or other piece of land more attractive by altering the existing design, adding ornamental features, and planting trees and shrubs" (per the Oxford English Dictionary).
For Topiarius, this includes all items, not just plants. We include built structures, or items like decks, pergolas, kitchens, green walls, planters, and containers. These can be located at ground level or on a rooftop, at a private residence or a public park.
Basically, it's an all encompassing term for everything needed to upgrade an outdoor space. 
The term "hardscaping" is used when referring to hard surfaces (thus, the name). And hardscaping is part of landscaping.
Hardscaping incorporates products such as stone, clay, concrete, asphalt, and porcelain into a landscape. These products are used to create a walkway, patio, driveway, sidewalk, seating wall, fire pit, etc. . . . basically, anything that can be walked on or sat upon, whether it's at ground level or on a rooftop.
To get the full gist of hardscaping, here are some examples: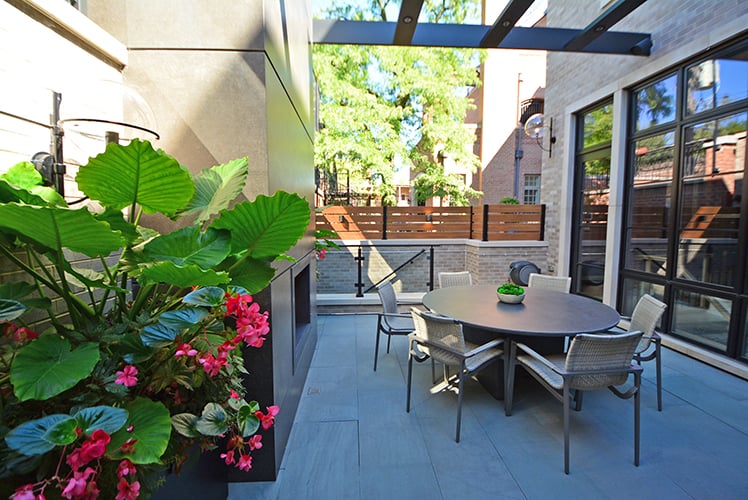 Bluestone patio.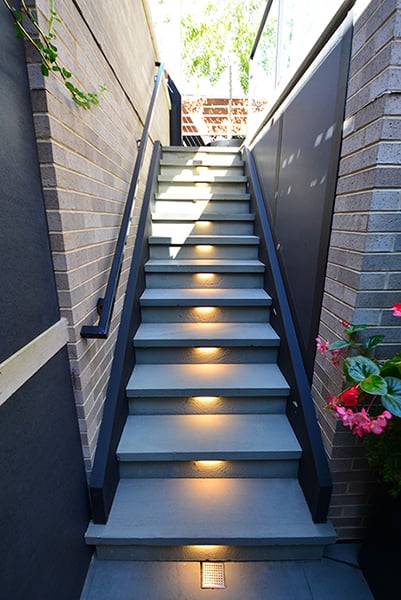 Bluestone stairs.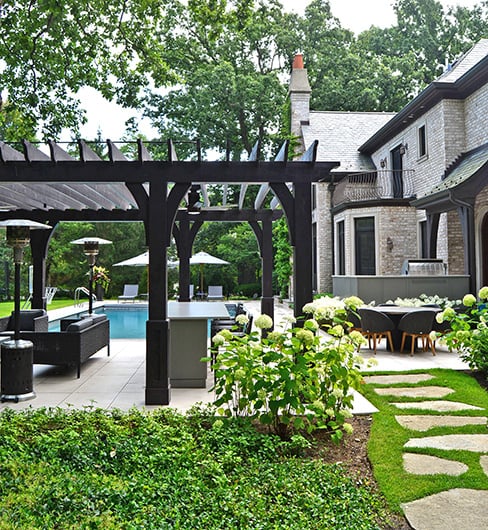 The above photo features two types of hardscape: Flagstone steppers (along the right side) and porcelain pavers (under the pergola and around the pool).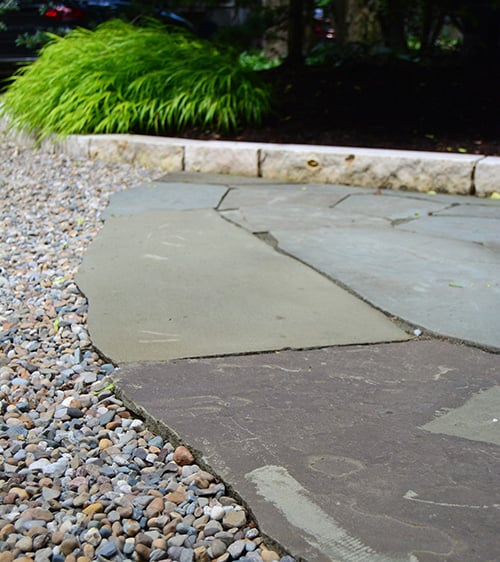 Three types of hardscape, above: Stone curbing (top), bluestone path (right),
and gravel driveway (left)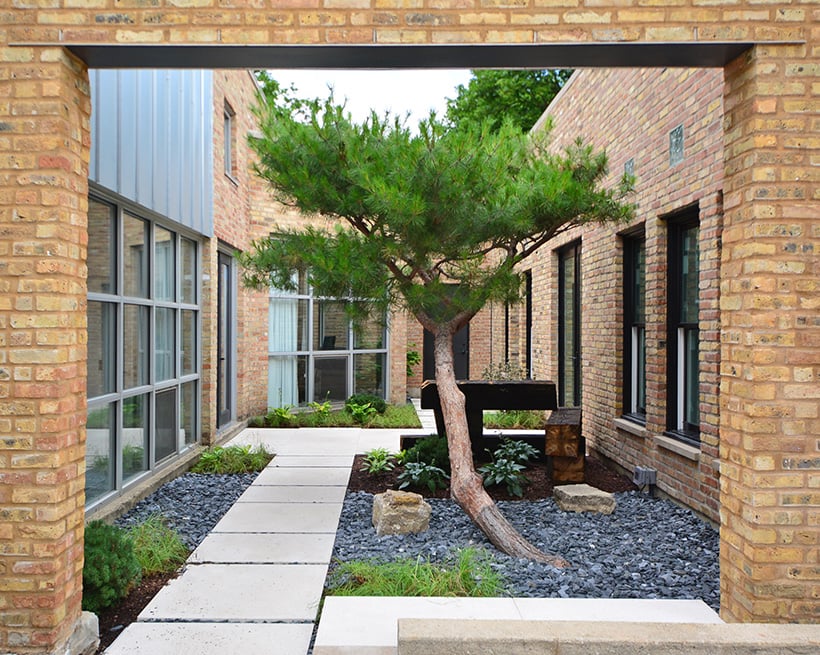 Two types of hardscape, above: Concrete pavers (sidewalk) and
bluestone chip (landscape bed).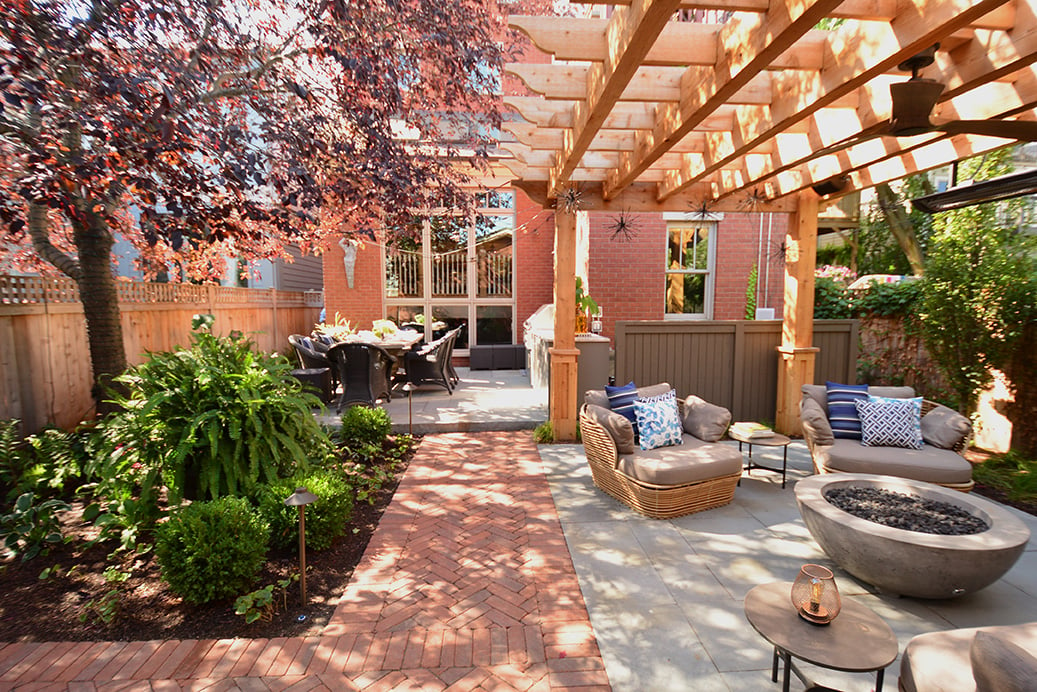 Two types of hardscape, above: Reddish/brown clay pavers and
bluestone paving (under the pergola).
So there you have it, class: Hardscaping and Landscaping 101. There won't be any pop quizzes on today's material, but hopefully it's helpful information! If you're a nerd like some of us around here at Topiarius University and want to get some extra study time in, check out this easy-to-read, super helpful overview on paving.
Here to help keep you informed,
Professor Sara J-S