I'm channeling some Will Shortz today. I've got a riddle for you.
What needs to get you from point A to point B, needs to be interesting to look at, and ideally doesn't look like your neighbor's?
Clue: It connects the front entrance of your yard to your side gangway.
Answer: It's the pathway through your front yard!
Who said there are no puzzlers around landscaping! Not I! 
At some point in my life I heard the sage advice that the best way to know where to put a sidewalk or path was to wait until you saw where people walked, and then start the design.
Well, when you have a small front yard – say a Chicago postage-sized stamp – and the yard entrance is kitty-corner from the gangway, I'll admit it's pretty obvious where you need to walk. BUT, what's so not obvious are all the potential solutions.
Check out these examples: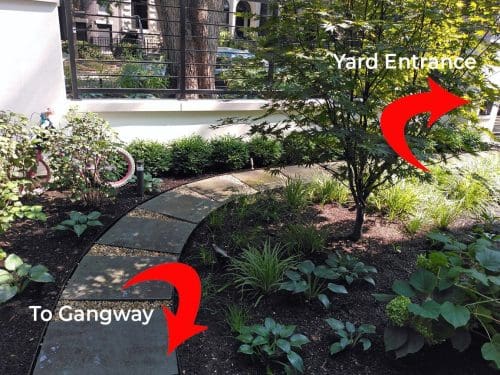 Amazing, right? Not one is like the other. And, they all accomplish the same thing.
Each yard speaks to the wishes and likes of each of our clients, whether there are straight or curvy lines, blue chip or bluestone, or plant heavy or plant light. 
When we work with you, we want to lock in both form and function. We aim for functional beauty! So if you're interested in some of this functional beauty, reach out. We'd love to get the conversation started.