If you have been tracking my blogs about pet peeves, then you know I'm in the serious zone. (GIFs are my tell.)
Landscapers who do not honor the growth habit of a plant (perennial, shrub, or tree), are not helping the world. 
They are especially not helping you. 
If you have a plant that is requiring ALOT of pruning maintenance (aka $$$), then you've got the wrong plant in the wrong spot. 
Any quality landscape architect or designer knows that EVERY SINGLE plant has a growth habit which includes maximum size (height and width). Topiarius certainly knows this. In our design plans, we are providing plant options that can grow naturally in the space they are planted. 
What does this mean? It means when a plant grows naturally there should be very little pruning maintenance*. 
Here's a quick example.
Forsythias have a growth habit like this (below). 
So if you end up with something like this (below), you've been punked. You've spent unnecessary dollars with a company that doesn't understand proper horticultural practices. And you're working with a company that doesn't know how to offer you the best plant that can grow naturally. I mean . . . look at all the space around this shrub!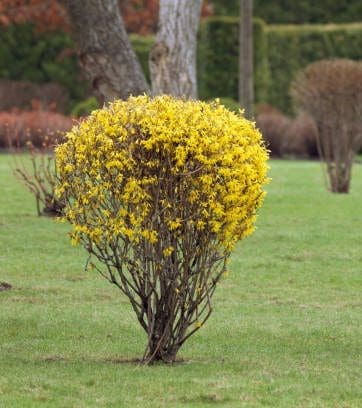 Bad pruning is rampant in the landscape industry, just like the notorious volcano mulch pile. But just because it's superfluous doesn't mean it should be tolerated. Illusory facts in landscaping run rampant, y'all.
Topiarius doesn't tolerate it. Our crews are trained to understand that every plant has a natural growth habit and to prune a plant into oblivion just because everyone else does it, doesn't fly with us.
Oh gosh – these pet peeves get me hot under the collar – for the full list of our 20 Pet Peeves, click here.
To work with a company that knows what they're doing and respects your dollars, click here to get started.
P.S. You've got to read about how to #ExposeYourFlare . . . aka respecting your investment.
* The following examples explain when pruning is needed. (This is not an exhaustive list.) 
When perennials die back they need to be clipped/pruned back so they can grow successfully the following season.
If a branch in a shrub or a tree dies, it should be pruned out.
Or if the design includes a hedge, then the shrubs and trees will require practiced pruning.