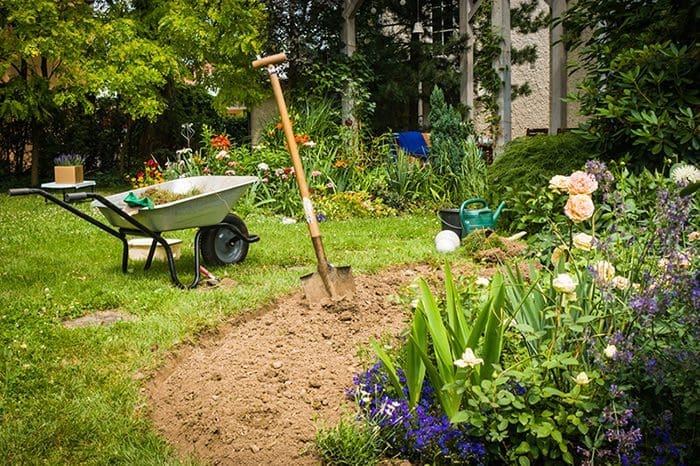 If you've ever watched the television show Mythbusters, you're familiar with its premise. The team challenges various rumors and urban legends to see if they are confirmed, plausible or busted. Here at Topiarius we are often asked to design a "maintenance free garden." While we'd love to do this for you we are unfortunately going to declare this a busted myth.
Nature operates without us. This means there will always be work to do in your garden and outdoor spaces.
Weeds will grow wherever there is soil, sunlight, and moisture.
Lawns will need to be mown even if you choose not to edge, fertilize or over-seed.
Corners and hiding spots will need to be cleaned and cleared of debris – both blown in by the wind and brought in by our animal friends. Birds will fly overhead, squirrels will scrounge, and rodents may nest and there is little that you can do about it.
Painted or stained surfaces like decks, fences and furniture will need upkeep. Water and sunlight will continually wear down outdoor finishes.
All trees, shrubs, perennials and annuals grow. This means that branches are going to break or die, deciduous plants will lose their leaves, flowers fade and plants die back each fall. In order for your plants to be at their best, they will need regular care.
Patios and walkways are also vulnerable. Tree roots push, freeze/thaw cycles heave, foot traffic compacts and dirt is always with us!
While outdoor fabrics are designed to not degrade as quickly from sunlight and water as traditional fabrics, they still need to be cared for while they are outdoors.
Even materials like composite (i.e. Trex) decking or porcelain pavers need care. While they resist rot, won't warp or splinter and never need staining or painting they can still get stained and dirty.
Don't be discouraged yet! While a completely maintenance free garden isn't possible, you can still make wise choices that REDUCE the amount of maintenance you'll have to do.
Making wise material choices is your best bet to getting a low maintenance landscape.
Choosing the right plant is a good start. Take into consideration the amount of sun or shade, the type of soil and the growing habit of the plant before you make a purchase.
Low maintenance hardscape materials that are rot resistant and clean easily will help your garden last a lifetime.
Maybe the most important advice to a low maintenance garden is to do it right the first time. Follow proper installation instructions, get advice from qualified sources and, if you are worried you can't do it yourself, hire a qualified professional!