I don't know about you, but complaining drives me bonkers! No, hold up, I need to refresh that . . . what really drives me bonkers is when an individual chooses to be confused because they're just too [fill in the blank] to think for themselves. 
Who's still with me? 
There should be no confusion around having an outdoor living space and making it your very own oasis. There are too many positive outcomes to your own health when you spend time outdoors to throw up any road blocks. 
So let me clear up a common road block about small spaces: small spaces are conducive to relaxing. 
You just need 2 things – only 2!
You need a comfortable place to sit and kick back.
You need it to be inviting – a Siren of sorts to woo you outside.
So the first one is obvs. (practicing the art of not being confused). If you are not going to be comfortable while sitting or laying down then there is definitely NO way you're going to say, "I want to be outdoors in this space."
The solution: Invest in comfortable, correctly-sized outdoor furniture. (Yo, large overstuffed furniture is not always the jam.)
Number 2. Let's take a look at these two balconies, which are not large (i.e. imagine what you can do if you have more space . . . but that's another missive).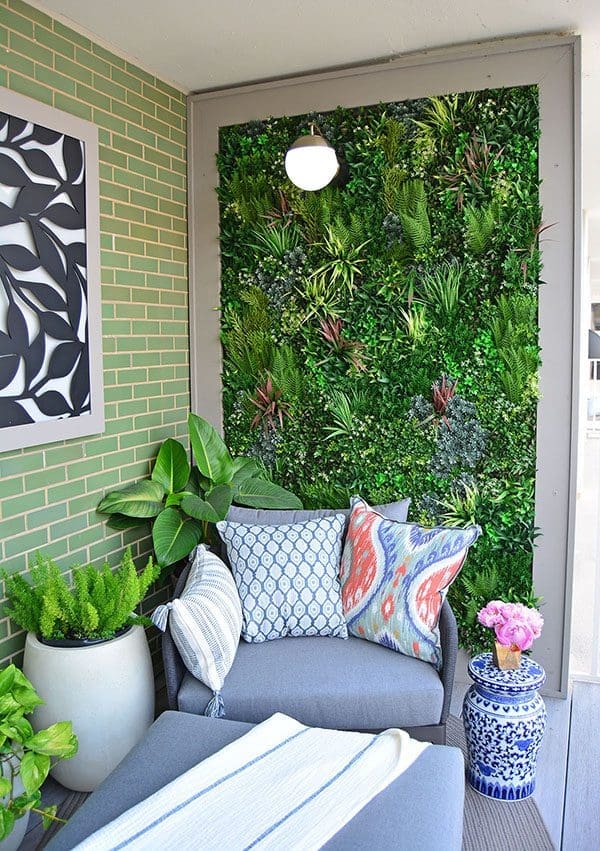 Here's what's wooing me out into these spaces, in addition to the uber comfortable lounge chairs:
The are clean and clutter free.
They are showcasing a few planted containers. 
They have some sun protection.
They both have minimal, but helpful lighting.
They both use carpet to create a room feeling.
Artwork (I'm giving props to the lion container as "artwork") and the option of a faux green wall (upper photo). 
And guess what? I didn't even mention anything about the view, which means if you don't have an amazing one (bonus points if you do), you can still have a small amazingly comfortable and desirable outdoor oasis with just these 2 things – comfortable seating and an inviting environment.
If you are all in on this, then one of the best next steps to choose not to be confused is to actively look for guidance . . . that's where we step in. We will create your dream outdoor oasis – no matters its size – so that you can master the art of living beautifully outdoors.