TOPIARIUS asks, What does living beautifully outdoors mean to you?
Chris Walsh, Topiarius Exec. VP of Sales and Design, weighs in this week.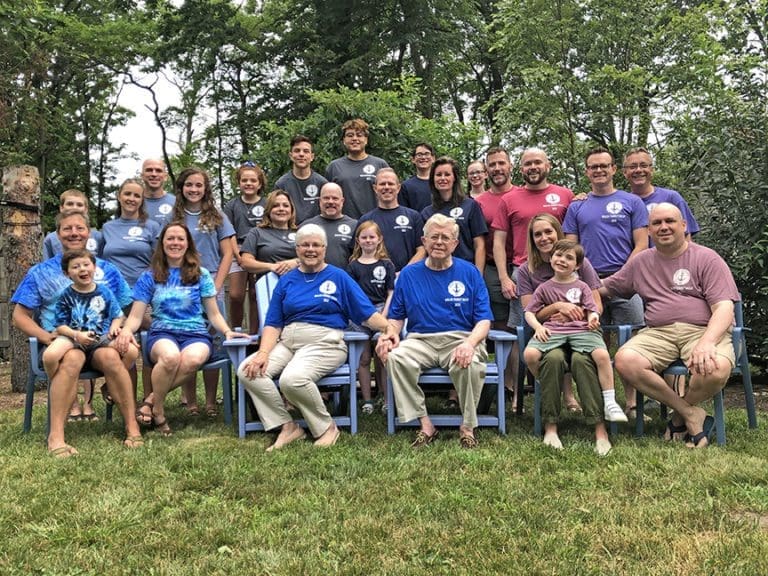 Living

 

beautifully

 outdoors means having a comfortable (and shady) place to visit with friends and family!
When my entire family came to our home in New Buffalo, MI  the summer of 2019 (above) it was so lovely to be able to fit everyone in the backyard! No, I don't have a table that seats 26 people, but I have garden rooms where smaller groups can visit and play card games, eat, cook a burger, lounge by the spa, relax in a hammock or sit by the solo stove. (Not an ad for Solo Stove, but it could be I LOVE mine.)
Having covered seating  for sunny days to share a meal on the patio is a must! Why sit inside when there is a lovely late summer breeze moving through the garden? And when there isn't a breeze we just turn on our outdoor fan. 
I grew up spending most of my youth outside in the garden, or messing around with the plantings around my parents home in Oakton, Virginia. And that is really what I do now, I spend my available time weeding and maintaining our gardens – it is relaxing for me. Being able to dig out weeds, prune branches and transplant perennials and grasses to change the mood of one of our garden rooms is magic to me. I love walking through our garden cutting branches for a big vase on the mantle or small vases on bedside stands for weekend guests.
That's what l

iving

 

beautifully

outdoors means to me. I have a space to stretch after a long run and a place where family and friends can feel comfortable outside and enjoy our natural surroundings for a reconnecting visit. We have a place to share a meal, or S'mores, decompress in the spa or just sit and daydream.  I can wander around prune away branches and have a fresh cut floral arrangement for the dining table or to give a bouquet to a neighbor!  
This is why I want to create special places for our clients. I want them to also have places to reconnect with family and friends, to decompress, and enjoy what nature has provided.