Such a great day today!
When I was thinking about who to ask next for our Living Beautifully Outdoor series, this woman was obvs at the top of the list. I mean . . . this is what she does for a living! If anyone is going to get it, Zannah will.
I want to introduce you to a partner of ours that helps us and many of our clients (you!) with outdoor furniture selections. Zannah, President of Bradley Terrace Outdoor Furnishings, represents over a dozen furniture and umbrella lines (many of which have showrooms at the Merchandise Mart). 
What does "rep" mean?
Well, Tracey from WI (Smartless reference), she is a real-life human search engine with access to everything you'd want to know about outdoor furniture – colors, finishes, fabrics, sizing, and pricing! She guides you through all kinds of options until you find THE perfect solution.
So keep reading to know how Zannah #LBO both in her personal and professional life. 
Enjoy!
Sara J-S
P.S. Head over to her website, you may see a Topiarius project or two. 
Living Beautifully Outdoors: Zannah Bradley Gill
President of Bradley Terrace
What does living beautifully outdoors mean to you?
Living Beautifully Outdoors to me means having multiple spaces – with different views and functions to enjoy the seasons with family and friends.  As an outdoor furnishings specialist, that also means having a comfortable and stylish place to sit… definitely an occupational hazard in my line of work.   I'm not big on maintenance either, so for my family, that means durable, easy care furniture that can stay outdoors year-round and is comfy both with and without cushions. 
Our dining terrace is just outside our kitchen and so convenient for grilling, a meal, or a cup of coffee.  The deer in our area are ravenous – I grow potted herbs, flowers, and tomatoes on this raised deck to protect them. It's not a huge space, so this year we tried window boxes over the railings instead of pots on the floor – a great space saver plus we get to enjoy the plants closer up!  They're easier to reach for tending, harvesting, and enjoying the fragrances.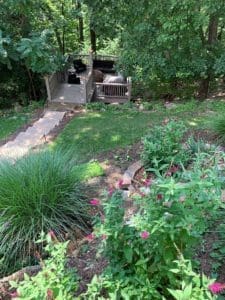 Our hot tub deck has a great view and is perfect for unwinding and relaxation.  Our observation deck is down the hill from the house and under the canopy of the woods.  It's great for smoking meat or building a fire and is a cozy retreat for lounging and getting away from it all.
I think we all crave outdoor spaces to enjoy nature and replenish our energy for the challenges ahead of us.  My passion is working with people to furnish their exterior spaces to fit their sense of aesthetics plus their lifestyle.  I love to help clients source furnishings and shade to suit their environment and maximize their outdoor living. 
Here's to enjoyment of the great outdoors!