I think most of remember our first car. And not only do we remember it, we love to tell other people all about it, right? (In 1987, mine was a silver 1980 Honda Prelude, stick shift with a sunroof. HOT!)
So when I got thinking about the next part of Topiarius' history, I thought about our first company vehicle and how it truly symbolized our next growth step as a serious, one-truck operation. 
It was April 8, 2005 when Craig drove off the Dodge lot with our 2005 Sprinter. She was all white, had a driver and passenger seat, and had a cargo area that was spacious and almost 6′ tall.
The most exciting part was determining how we wanted to get the Sprinter logoed. As you can see, we nailed it with the vinyl design. I joke about it now, but it got folks' attention, which led to lead calls.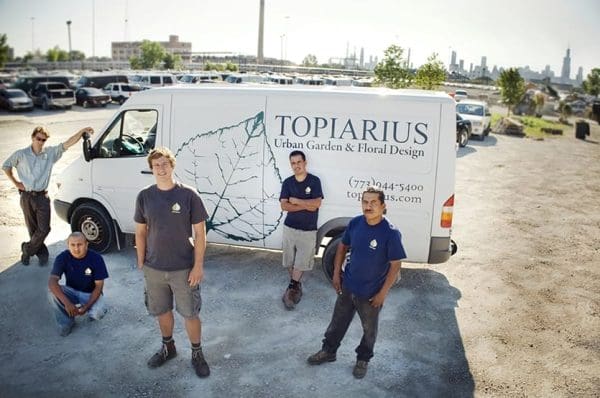 We drove this vehicle almost every day from 2005 – 2010, until we handed the keys and workload to full-time staff. As you can see from their expressions above, these guys loved the Sprinter as much as we did.
And because everyone enjoys a good Fun Fact, here are a few about the Sprinter:
The Sprinter was our office away from home. So obviously, it's where we displayed a framed 8.5 x 11″ photo of our Employee of the Year (our only seasonal employee at the time).
It became a space for Tetris-like competition every time we picked up plants at a vendor. Creatively stacking many crates of flowers was the name of the game, as making only one trip to pick up plants was the goal!
The Sprinter served as Craig's personal vehicle since we only had one car, so if Craig needed to meet me somewhere – yes, even at a restaurant for dinner with friends – he drove the Sprinter. Classy.
Poor Sprinter. . .it became my punching bag (unintentionally, I swear). I dented the back door backing out of our garage, and knocked the passenger side rearview mirror off while driving down a narrow street. OOPS.
In the end, the Sprinter served us well as our hauler-of-goods. It boggles my mind to think about how many plants, bags of soil, stacks of stone, planters, sod, irrigation supplies, bags of concrete, and tools moved through the Sprinter, and all of the projects that represents.
While this has been a fun drive down memory lane, it's also exciting to think about how far we've sprinted forward (see what I did there?). The Topiarius fleet is now 21 vehicles strong! This means our talented crews arrive at Topiarius World Headquarters bright and early, load up multiple work trucks, and head out to clients everywhere from Lincoln Park to Oak Park, and increasingly, the Southwest Michigan lakeshore. As always, Topiarius vehicles and crew members hit the road with our mission in mind: To help you live beautifully outdoors.
If you'd love nothing more than to see a Topiarius vehicle pull up in front of your home, delivering a hard-working team that will help to transform your space, contact us! We look forward to working with you.