If you were a fly on our wall at our house you'd see that our Netflix and Hulu ques are filled with food shows like Action Bronson's F*ck, That's Delicious and Padma Lakshimi's Taste the Nation. These shows were proceeded by anything Anthony Bourdain (RIP) created, as well as one of our favorite Minnesotans, Andrew Zimmern's Bizarre Foods. It's the combination of travel and food (and, okay, the social commentary) that are two of our favorite things.

Almost 2 years ago, Craig and I joined our friends at their family resort in Cabo San Lucas, Mexico. Our friend Erik, who shares our passion for travel and food, is always looking for the next adventure. He suggested we spend the afternoon at Flora Farms and take a field to table cooking class. Tapping both our loves, it was an automatic yes.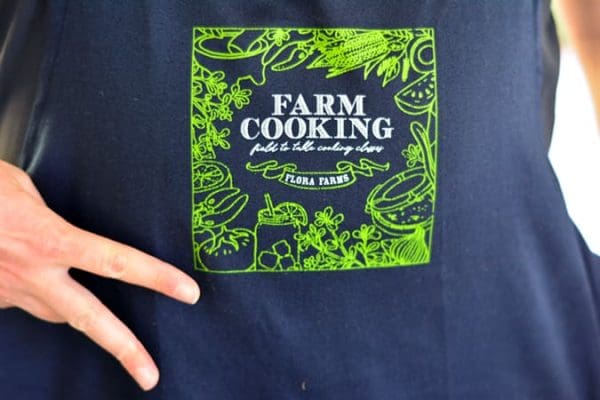 Just northeast of Cabo "Flora Farms is a 25 acre organic working farm in the foothills of the Sierra de la Laguna Mountains in San Jose del Cabo, Mexico. Home to Flora's Field Kitchen, The Farm Bar, Flora Farms Grocery and Flora Farms Celebrations. The farm is also home to the Shoppes at Flora Farms, the Culinary Cottages & The Haylofts, . . . , as well as The Farm Spa, an intimate spa and wellness experience achieved through nature-based spa services, in a supremely peaceful setting." (Erik conveniently left out that there was a spa, but that's for another discussion.)
For all us Chicagoans, it's a fun fact that Flora Farm's Chef Guillermo Tellez has a strong connection to Chicago. He graduated from Kendall College, as well as, worked with Charlie Trotter. (For the full history, see the website.)
After our chef for the class welcomed us, we got right to work learning proper chopping techniques and explanations about the correct tools to use. Who knew cutting onions could be that simple or that the stem of cilantro is as good as the leaves?!? And, now I know what a molcajete is! (It's the stone mortar and pestle.)
It didn't take long before we had prepared two new guacamole recipes (rosemary and charred habanero), a pico de gallo recipe, and were feasting on an excessive amount of fresh tortilla chips accompanied by their Farmarita cocktail.
Next came the tour of the farm. I've mentioned this before, but it's a commonly know fact among our friends that we are like kids in a candy shop when we're on a farm or in a garden. We identify every plant out loud as we walk around. (I also have a bad habit of pulling weeds wherever we go too.)
There were limes, cacti, turnips, amaranth, mangoes, hibiscus. Warm climates are amazing!
Utilizing a lot of their property for their food production, some areas look like a traditional vegetable garden while others look like show gardens that grow produce. Some of their harvest is for sale (below image) while much is used in the kitchen.
No instruction worth it's salt in Mexico would be complete without learning how to make our own corn tortillas. Deceivingly simple. With practice I see how it becomes second nature to grind, need, press, and cook.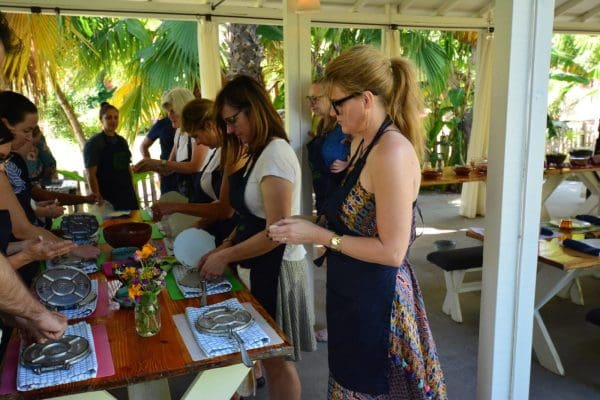 Once the tortillas were completed, and honestly our bellies quite full, our meal was served. We had some of the most delicious Baja Fish tacos and Taco Slaw followed by Key Lime pie. Yummmmm.