Now Is The Time to Contract for Fall Maintenance and Construction Services!
Hello Friend,
I want to let you know two things:
1. Dudewithsign has captured how I currently feel.
2. I have to admit it's time to plan for fall and winter (if you have NOT yet). I promise it isn't painful, but this is Our Last Call For Fall!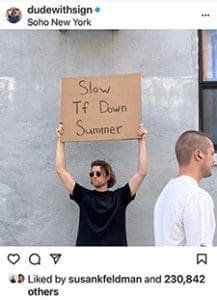 Here's the game plan if you currently do not have a contract for fall annuals and clean-ups, but still want them:
Complete this short form.
Within 24- 48 hours (Monday – Friday) Chris or Tyler will be in touch with you.
Receive a proposal, sign, and make payment.
Danny, our Client Concierge, will contact you about your installation date.
A quick note about scheduling and why this is Our Last Call for Fall.
First and foremost, we always do our best to accommodate your wishes and schedule. This is why we're encouraging you to contact us now because we still have a wee bit o' flexibility. If you WAIT you'll find out that we won't be able to schedule you until later than you want. (Sorry, not sorry. We respect you too much to not tell you the truth.)
SO NOW IS THE time to contact us . . . even if you're still in a summer mindset, which I get cuz I'm totally there too. 
To avoid this summer interruption next year, I encourage you to contact us in January and February for a contract for any seasonal planting or maintenance services. The sooner you sign and pay your deposit, the more options you have about scheduling AND you can be 100% worry free about your fall annuals and maintenance.
This is Our Last Call for Fall!
P.S. If you need some encouragement, then download our 
Fall
and 
Winter
Color Guides. You'll be inspired immediately to 
contact us now
.