Hello Friend,
I've got good news and bad news today.
Let's get the bad news out of the way.
If you didn't order your outdoor umbrella during the winter, then you are shite out of luck today if you're currently living in the Chicagoland area. Because it's what you call a scorcher outside! (Unless you're like me and you love it.)
The GOOD news is that there are some fantastic umbrellas available for your luxurious outdoor oasis!
Our good friend Zannah Bradley, owner of Bradley Terrace Outdoor Furnishings, met with us a few weeks ago to give us the 411 on the good stuff.
I'm starting with the line that has caused the most controversy around our office –  Santa Barbara Umbrellas. I LOVE them and Mr. Chris Walsh, EVP of Sales & Design, shakes his head no. (Now if you love them and you're working with Chris, don't worry – he designs for you.)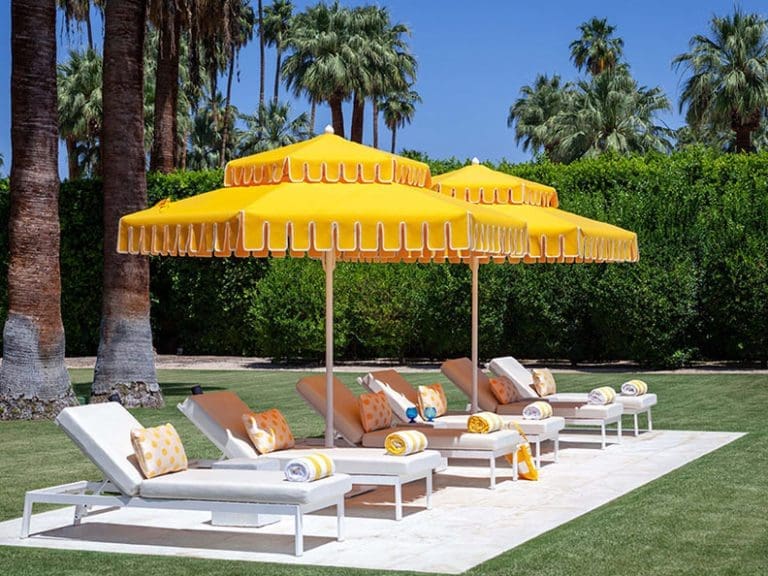 The next two are from a company called Woodline Shade. While the images don't show them, you can get sides for them. If you live in highly permitted areas (like say, the Old Town neighborhood in Chicago or Long Beach, IN) then these can give you the feel of a pergola without having to get permitted because they're not permeant structures.
And then there's Caravita Shade.
Three things I love about this line:
They have a gutter system that can connect umbrellas, so the weather doesn't sneak between.
They have integrated lighting and heat. All in one magic.
They do custom shapes! Because sometimes not everyone needs the same shape.
Thus my faves for this season. But know there are lots of alternatives within these brands, as well as, from other companies.
We'd love to help you make the right choice based on your full design for your space. (We need to take into account wind/weather and how to best anchor the umbrella correctly.) Contact us today so we can get this party started!