It was a Tuesday morning. I'm 7 years old in second grade. 
Donna, Kara, and I are taking the "long" way to school because 1) it's raining, 2) the shortcut is a muddy hill with a stream, 3) it's a paved sidewalk, and 4) most importantly, it's picture day.
I know we had our umbrellas because it was all the rage to have the clear ones that arched so low it covered your shoulders. Plus, it had these amazing ladybugs all over it. No way I'd forget that artistry. 
Chatting along (or were we yelling to hear each other . . . ) we were staying pretty dry. 
Until . . . do I even have to say it?!?
A car drives by spraying ALL the muddy puddle water all over me!
My fear of being tardy to Mrs. Dunne's class only meant one thing for me. Onward! My picture would just be epic. (Honestly I was just pissed. But we all know this is a bit revisionist history, so I'll pretend I kept my chin held high and didn't cry.)
Thankfully I did have my umbrella. It kept the upper half of me clean!
Umbrellas . . . do we appreciate them enough?
Do we know how ingenious and aesthetically pleasing they truly can be? 
In the landscape environment they can be the perfect addition to an outdoor space so it can be used in both sunshine and a light rain.
Over the past few years we've been incorporating them into our designs.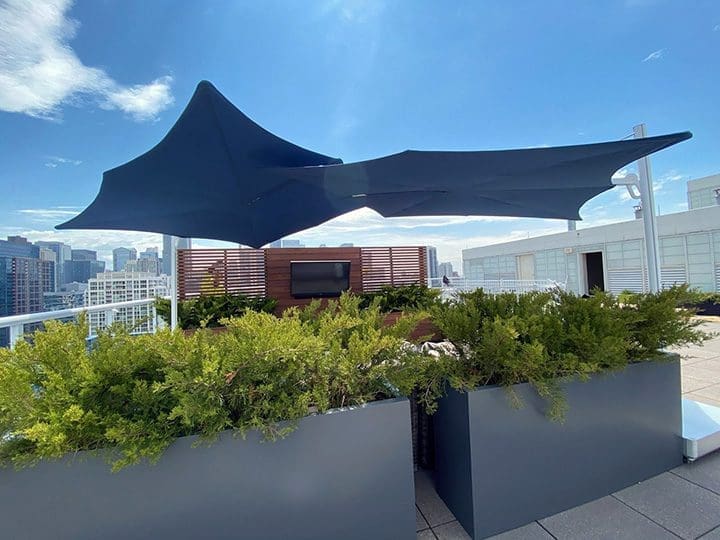 On this rooftop, we used the Spectra Umbrella by Umbrosa. Two together make watching TV so much easier while lounging on the couches (which are hidden the planters and plants). 
This outdoor cooking and dining area needed some sun protection during the day. So, we chose the Paraflex Umbrella by Umbrosa. The flexible arm and tilting capabilities made it the perfect choice. Plus, when it's collapsed it takes up very little space.
For this rooftop, the client opted for this amazing umbrella rather than a pergola. So, we chose the Dacapo Umbrella by May. It has been anchored to the decking to eliminate the stand, which often gets in the way. With this configuration, the umbrella can be rotated 360 degrees to the exact location needed. 
We all know that 99% of the time we get what we pay for. And, these umbrellas are no exception to this rule. The value they provide is through their ingenuity, their ease of use, and their durability.
When we're designing outdoor spaces, our goal is to provide you with ideas and products that you wouldn't have or know about . . . like ways in which you can maximize your space, the best plant choices for their location, or options like these umbrellas!
Contact us to discuss. We will talk through the best applications for these umbrellas and see if they're a great fit for your outdoor space. (Can't promise you'll never be soaked by a car driving through a puddle though.)
LIVE LIFE BEAUTIFULLY OUTDOORS!
Since you have stuck with me this long, here's your reward:
Sara Jenkins' 2nd grade picture. It's okay to laugh . . .