Choices and options can be amazing, right? But when you're trying to make a simple choice and you're faced with endless options, it can stop you before you begin. Finding the perfect grill is no different. So, rather than getting lost in the possibilities, I had a conversation with Zac Selleck from Chicago Gas Lines to help me sort through all the chatter and make this process easy.
What is it you love cooking?
There are no longer distinctions between what you cook inside and what you cook outside. From being able to boil water, fry an egg, bake a pizza, sear steaks or tuna, smoke ribs, bake potatoes, grill vegetables, rotisserie cook a chicken . . . it is all possible. Because you don't have to limit your options, what are you truly desiring to cook outdoors? Maybe it's just a few options or maybe you're saying yes to all of the above.
If you're interested in pancakes, a hash, grill cheese, or bacon? Then, skillet cooking is an option. If you're interested in being able to sear proteins like steaks and tuna then look at infrared grills; they will allow you to cook at a higher temperature in half the time. Or if you prefer the slow cooking process of smoking ribs, pork belly, or roasts because the beautiful smoke ring is the only thing that matters, then smokers are your focus.
What will fuel the grill?
Grills measure their efficiency in BTU's. British Thermal Units are a "measurement of how much heat a grill generates at its maximum output. If you think of BTUs like your car's fuel efficiency or MPG (miles per gallon), BTUs measure your grill's fuel efficiency or OPB (output per burner) as well as all the burners combined." [1]
While each grill will operate with its optimum BTU, depending on its make and model, all grills operate more efficiently when they are fueled by a direct gas line providing consistent and dependable fuel. When there isn't a direct gas line, options are propane, charcoal or pellets.
Often exterior gas lines are added after home construction. It is only a recent phenomenon that home construction will include these lines to outdoor spaces. While it is most often feasible to retrofit a line to your grill, it isn't always possible.
What size are you looking for and where do you want it located?
Grills come in many sizes from 21" – 54" widths, but 36" is the most common. Many companies have other appliances that they offer too, such as side burners and refrigerators. The additional options make it easy to get the exact configuration you want.
If you have an outdoor kitchen design, you will want a built-in grill. If you do not, then you'll need the additional cart for a free-standing set-up.
[1] https://www.charbroil.com/how-tos/what-are-btus
TOP 3 Grills on The Market Right Now
Now that you have answered these 3 questions, here are the TOP grills on the market right now. All of them will make your outdoor cooking and dining amazing experiences.
According to Zac, the best grill on the market right now is LYNX. They were bought by Viking about 2 years ago, so as LYNX they continue to bring the high-end quality they're known for and are backed by a recognizable brand name of VIKING.
The 36" gas grill from LYNX begins at $5,800 (without stand).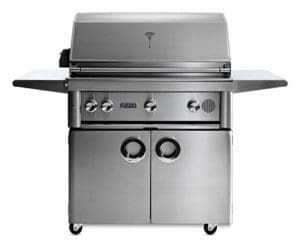 Not only is the Hesten Aspire another excellent grill, you have the added dimension of being able to choose from 9 different color front panels. If you're looking for a way to reflect your personality in the design of your outdoor space, then Hesten is a great place to start.
The 36" Hesten Aspire begins at $3,500 (without stand).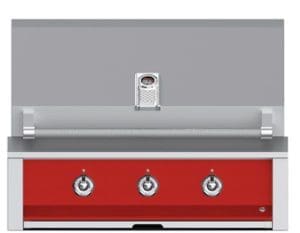 If you're looking for a grill that is straight-forward and uncomplicated, then Broilmaster is the option for you.
The 36" Broilmaster begins at $2,200 (without stand).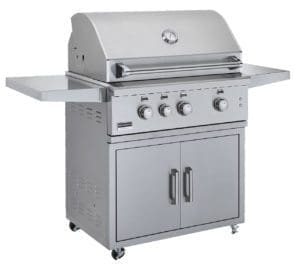 We've designed many outdoor kitchens to include the Green Egg, so it's worth mentioning here. It is an all-in-one grill that grills, smokes, roasts, and bakes while using natural lump charcoal. But, know it may take you some time to learn how to maximize its power. It is a grill that relies heavily on air intake and when there is a slight 10-15 mile per hour wind, the grilling process can easily become more challenging and make cooking inconsistent.
To see more designs of grills in outdoor spaces, visit our Pinterest board.
Happy grilling and more!